Every Saturday, at the town's Pffarplatz, a viticule market is held in Krems. Among the the wide range of traditional products and specialities fresh from the region, there are poppy seed cakes known as Mohnzelten, which are also available with a haselnut filling.
In addition to bakery products and conserves, there are all manner vegetables, fish and dairy products.
In addition to traditional products there are empanadas, the Argentianian descendant of the Cornish pasty.
There is Polish pierogi, hand-made ravioli, tortelloni and gnocci all with delectible fillings.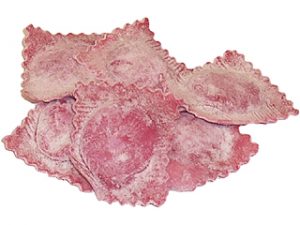 As the Wachauer Saffron Manufactory sells locally produced saffron and saffron products, this means that after a break of two hundred years, saffron is once again being sold at a market in Krems. For the full story of saffron growing in the Wachau and more on the Wachauer Saffron Manufactory's products, see the Berhard Kaar article of the Reloading Humanism "People" page.