The Wachauer Saffron Manufactory Café run by the Kaar family in the old railway station in Dürnstein is once again open offering coffee, saffron cake and other refreshments, all of which can be enjoyed whilst contemplating the rocky crags on which the ruins of Dürnstein Castle precariously perch. The café is open Saturdays, Sundays and on public holidays from midday until five o' clock and can be combined with a walk among the vineyards, a river trip along the Wachau or a hop on hop off exploration of the valley using the Krems-Melk train which likewise operates at the weekend and features the Wachauer Saffron Manufactory as a stop.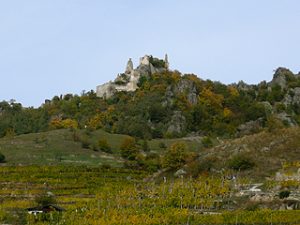 For those who want to produce their own saffron or those in search of some autumn colour in the garden, a starter kit of saffron bulbs complete with instructions can be purchased. As saffron bulbs are dormant from spring to autumn they can be planted out over the summer with flowers appearing in October.
For those interested in artisan food there is a bespoke range of saffron-based products that includes chocolate, liquer, honey and pasta.

Meanwhile plain, top quality strands of saffron are available for cooking and baking at home.