From Krems one approaches Stein from the East, entering the town through the Kremser Tor. This gateway is the starting point for a tour given in German by Christine Emberger in which Stein is revealed to visitors through the eyes of a night watchman from the Middle Ages. For details on these and other of tours see: www.christine-emberger.at.
The eastern gateway is also where Kleine Welten, or "Little Worlds" may be found. Here educational, innovative and sustainable presents for all ages may be found. Products include games toys, books, stationary and well as top quality chocolate made by the Austrian chocolatier, Berger. See www.kleinewelten.at for opening times.
A hundred metres South of the eastern gateway there is the Danube and a landing stage where river cruises along the Wachau Valley can be booked and the ferry boarded. This is the starting point for another tour given by Christine Emberger that introduces the world of the "shippers", teams of up to 80 men and as many horses, who in conveys would haul freight barges up river. An open air exhibition gives an introduction the history and culture of the Wachau which along with the old town of Krems and the abbeys of Gottweig and Melk was accepted as a world heritage site by the UNESCO in 2000.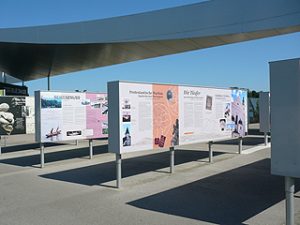 Also near the eastern gate, at Steiner Landstraße 24, is Zorba's Taverna which can be recommended to those who like Greek cooking and wine. Continuing West, either along the Steiner Landstraße or along the Danube tow path, one soon enough arrives at the "House of Regions". Here, at Ludwig von Köchel-Platz 1, traditional costumes and textiles may be found along with such items as hand-blown glass, enamel ware and traditionally made wicker baskets. Around the corner at Donaulande 56, books and CD's with a regional focus are available. The House of Regions was previously known as the Gasthaus zu Elefant as it was here that in 1551, an elephant named Solomon and his mahout, Subhro, spent a night. The elephant was a wedding present from the king of Portugal, King João III, to Archduke Maximillian of Austria and Solomon and Subhro walked all the way from Portugal to Vienna. Everywhere they went they were seen as a great marvel and in the towns and villages where they stopped, inns and hostels recorded the event by renaming themselves with such names as "Elephant's Rest" and the "Elephant's Guest House".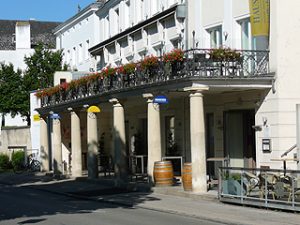 Following the Steiner Landstraße brings one to Stein's parish church and for those who wish to explore the town's hidden corners, the steps behind Saint Nicholas' Church lead to the Church of our Lady and the Reb Tor and offer a view over the town. Nearby is the well from which, for hundreds of years water was drawn. Once a busy meeting point it is now a tranquil spot where a refreshing drink of well water can be enjoyed.
The Church of Our Lady was built in 1380 on the site of an eleventh century church, which in turn was built on a Roman structure. The interior dates from around 1470 and one of the fragments of fresco is comparable with an early Renaissance grotesque found in Krems and on display in Museum Krems. The tower meanwhile is late sixteenth century, has seven stories and is capped by a distinctive Baroque roof. Unusually for a church tower there is a chimney. This is because up until 1970, the top floor was where a watchman  lived who would keep a lookout for outbreaks of fire. 1966, the church was dedicated to the memories of those who fell during the First and Second World Wars.
Continuing on along the Steiner Landstraße, after Rathaus Platz, one comes to Passauerhof, with a Renaissance façade topped by dog-tooth castillations and ornamental, miniature turrets. This was an agricultural collecting yard where crops were gathered in and grapes were pressed to make wine that was stored in the cellars below. Here, at Steiner Landstraße 76 is Il Magazzino, where a range of Italian specialities may be purchased. These include fine wines, grappa, cheese, charcuterie, tinned products, pasta and all manner of preserves and biscuits. Fresh bread is delivered from Waldviertel, the wooded plateaux that lies to the North of Krems and Stein. For those in need of refreshment, wine, coffee aperitifs and antipasti are served. For those who cook, there books on Italian cooking. see www.il-magazzino.com for opening times. In the Kleine Passauerhof at number 74 there is the dressmaker and fashion designer Martina Wagensonner www.wagensonnerfshion.raumusik.at.
Around the corner at Schürer Platz there is the award winning pizzeria Firenze, where oven baked pizza and hand-made pasta may be enjoyed either outside, or indoors under the cosy curve of a traditional vault. See www.firenze-krems.at. At Schürer Platz there is the "Toll Collector's House", which is a masterpiece of Renaissance architecture.
Dating from the same period but with a more Medieval flavour at Steiner Landstraße 92 there is the so called "Green Castle". A little further on at number 102, there is the schnapps distiller Bailoni, www.bailoni.at.
On the right hand side, Steiner Landstraße 122, is the last house before the town's westward gate and is where the Baroque painter, Martin Johann Schmidt lived and worked. For those who can follow German, a well researched and highly informative tour given by Christine Emberger reconstructs the life and times of this versatile and vivacious artist. The starting point of the tour is the westward gate, which facing in the direction of Linz, is called the Linzer Tor.