Like Krems and the Wachau, the recorded history of the Wasserhof estate in Gneixendorf starts at the end of the first millennium AD, when land was given to the aristocratic Machland family. 140 years later, the estate was bequeathed to the Cistercian Order, yet with the onset of the Little Ice Age at the beginning of the sixteenth century, many monasteries began to suffer economically so that as the century progressed, the estate was sold into private ownership. Where parts of the house date from this time, the building's appearance derives from the eighteen century. In 1819, the estate and eighteenth century house were bought by Ludwig van Beethoven's brother, Johann van Beethoven. Here Beethoven spent the autumn of 1826 and completed the final movements of his last two works, the string quartets Opus No.130 and Opus No. 135.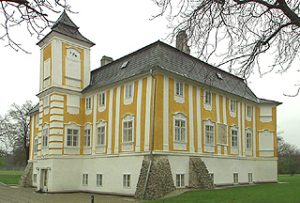 As the house and grounds of Schloss Wasserhof are not generally open to the public, the Köchel Society has prepared a display that, mounted on the surrounding wall of the property, is to be found next to the bus stop.
Along with the Wasserhof estate, Johann van Beethoven also bought the adjoining "Trautingerhof" which can be found at Schloßstraße 19. Like Wasserhof, the Trautingerhof was included in the original package of land that was given to the Machlands in around 1000 AD, only where Wasserhof was sold in 1574, the Trautingerhof was kept by the Cistercians until 1806. The house was built during the eighteen century around a core that like Wasserhof, probably dates from the sixteenth century. Although referred to as the "Beethoven House", letters prove that this is not where the composer resided whilst staying at Gneixendorf. Nevertheless the first floor of the house features period rooms that date from 1800, with the main room being decorated with illusionist wall-paper, that between architectural columns, shows romantic views of landscapes. The rooms are run as a Beethoven museum by the Gettinger family and can be visited by appointment (mobile: 0650 435 3290).
Whilst in Gneixendorf, Beethoven and his nephew, Karl, made trips to Imbach, Göttweig and Krems. Beethoven was also in the neighbouring village of Lengenfeld, where he went to see the surgon, Dr. Karrer. As Karrer was out, Beethoven waited for the physician, sitting on a chair that is on display in Museum Krems.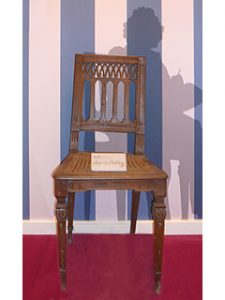 In Gneixendorf, a memorial to Beethoven features a laurel-crowned copy of the composer's death mask. For those in search of refreshments, Gasthaus Walzer, to be found at Gneixendorfer Hautpstraße 28, offers traditional Austrian cooking with a modern touch. See: https://gasthaus-walzer.at. To reserve, use the landline: 02732 48004.